I'm sure you've all see the Nationwide commercial "Jingle" which features Peyton Manning singing new lyrics throughout his day to the tune of "Nationwide is on your side." By all accounts, it's been one of the most successful ad campaigns of the year.
According to Jennifer Hanley, Nationwide's senior vice president for brand marketing, "From a paid-media perspective, it's one of our single most effective ads ever. From a social-media perspective, 'Jingle' is by far the most talked about ads in the history of Nationwide" based on the more than 20 million organic social media impressions via Facebook and Twitter. (credit Denver Business Journal, 12/10/2014)
However, what I'd like to highlight today is how Nationwide recognized the success of this traditional media campaign, particularly around Peyton's line "Chicken parm you taste so good," and came up with another way to leverage it via a completely different engagement channel, on-site sponsorship activation.
At the Broncos home game on December 28, Nationwide will be on site to give out thousands of free chicken parm sliders to any fan that sings the Nationwide jingle, with fans being encouraged to come up with their own creative lyrics. Additionally, Nationwide is also distributing 40,000 free orange t-shirts with that magic phrase…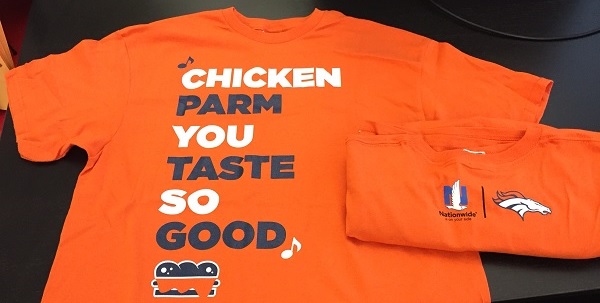 This is a great lesson for all sports marketers. You may start out creating a campaign designed for one medium, but you should always look for opportunities to expand a successful effort into other formats. I'm confident that the fans in attendance on December 28 will love these shirts and come away with a heightened awareness and deeper connection to the Nationwide brand,